Testimony…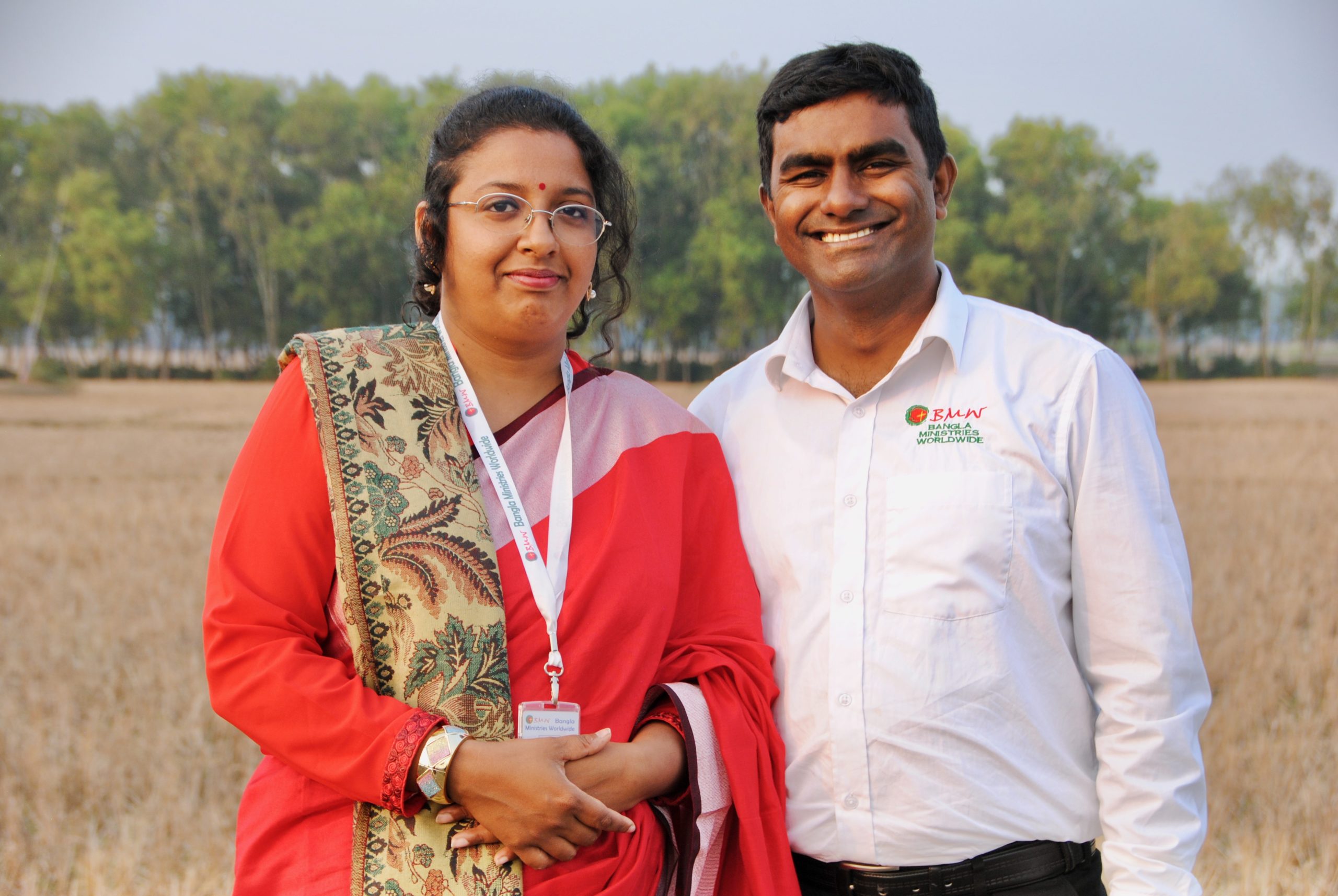 I came from a Christian family. While I was in Barishal I went to SS, but in Rajbari the church didn't have SS. Our family had daily prayer time and regular Scripture memory. I knew all about Christ, His sacrifice, and His blessings.
When I was 13, I knew a lot, but did not know how salvation related to eternal life. April 1, 1999, I heard my cousin was going to get baptized, so I was suddenly interested in baptism. I asked her why she was doing it. "I believe in Jesus Christ. I love Him. He is my Savior. That is why." I felt the same way, so I wanted to be baptized as well. I asked my father if I could. He said you have to get salvation first. Then I ran to my mother to find out what is salvation. My mother said, "Those who are saved stop sinning." I realized that I was continuing in sin, so I didn't have salvation yet. I felt sad and fearful in my heart because without salvation I would not get to be with my sister and mom and dad in heaven. I didn't know exactly what to do or who to ask to fix this. I did not want to admit my sin of lying to my parents because they thought I was so obedient. I was heartbroken about my eternity.
One night I was reading the Bible late at night and suddenly saw Romans 4:5, which says, "However, to the man who does not work, but trusts God who justifies the wicked, his faith is credited as righteousness." So, I realized that I believed in Jesus. He sacrificed his life just because of me. His death and resurrection were my death and resurrection. I just needed a sign that it was for me. I found Isaiah 43:1.
But now thus says the Lord,
he who created you, O Jacob,
he who formed you, O Israel:
Fear not, for I have redeemed you;
I have called you by name, you are mine.
I heard God, my Father calling me in that verse.
I still hear Him calling me and I am serving Him to this day.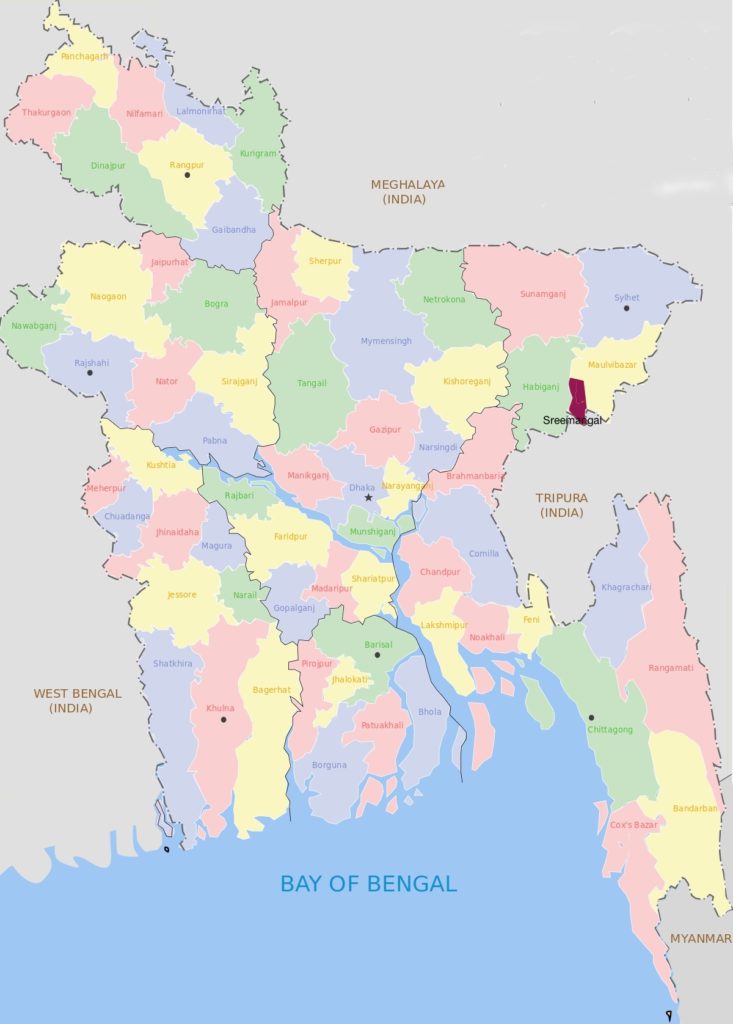 Ministry and Personal Prayer Requests
July 25, 2021–Answer to prayer: I want to give thanks to the Lord for all our prayer supporters who have constantly prayed for us. Please pray for their safe and healthy life.
I want to give thanks to the Lord that He has provided us potential people for Jessore, Gopalgonj and other places.
I want to give thanks to the Lord for Orvil Nath, our new coordinator for the South area as he has a great enthusiasm of learning our official methods and he is progressing. Please pray for him so that he will improve his area significantly.
I would like to give thanks to the Lord because we have Philliph Samadder as a coordinator for North East area from this month. He has qualities we wish to see in a coordinator. Please pray for him so that he will be able to show his efficiency, his faithfulness, and his passion for ministry to us and to our Lord.
Ministry: This month we arranged a whole-month online training program with new staff under Satish Soren and Sanjoy Biswas's leading, and other coordinators are teaching different subjects every day. In this training they are learning about our materials and our methods to use them. They are learning to give daily devotions and how to share the Gospel with non-Christian people through the Bridge Illustration. We are hoping to continue these training classes a few more weeks due to the strict lockdown. Please pray for these new staff that God may give them His wisdom for better learning and understanding so they will be able to use these teachings in the field properly.
Please pray for Mrinal Boonerjee, our one of the staff of North East area. From a few days he is showing dissatisfaction and lack of cooperation with his area coordinator. He has also failed to maintain good relations with his coworkers and some of his students as well. He is also losing his respect from his community due to his behavior. Seems like Satan is working in him and leading him downward in his ministry work.  Please pray for him so the Holy Spirit may help him to understand his mistakes and give him consciousness and conviction so he can live with God again.
Please pray for Richard Kot, Dilip Kondo and Dipok Murmu. They have all decided to get married. Their families have chosen a potential wife for each them. Please pray for them so they can learn God's will in their life, and they can build a true Christian family so that God will be praised and worshiped by others through their family.
Personal: Please pray for my cousin Gloria and Lorenzo, they both are corona positive. Please pray for their healing.
May 13, 2021–I want to thank God for all the staff who are working hard for His kingdom. They travel to places every day. Please pray for every one of them for their safety from sickness and other threats. As everyone knows the staff camp and US team visit is on hold due to the lockdown. Please pray that the situation gets better, and every program can be completed without any obstacles.
Please pray for Prodip Sarkar our new stuff. Pray for him so he can learn the BMW work system. Also, we have recruited many staff in the last few months. They are Montu, Sumon, Rafael, Golgar, Philimon. More staff are being recruited. Please pray for the new staff so they may work faithfully for the kingdom of God. Pray that God will destroy Satan's plan and clear the blockage made by Satan on their way to reach the unreached people.  Please pray for Mrinal and his family. Mrinal is having a hard time fulfilling his target number of students. Please pray that he can fulfill his duties faithfully. Please pray for Gopalgonj and Jessore as we are looking for some appropriate staff for these two areas.
Please pray for Orvil Nath, our new coordinator of the south, and Rimi Biswas, the assistant coordinator of southwest. Please pray for them so they can fulfill their new duties faithfully and appropriately.
March 13, 2021–God was so good to me. Thank you all for your kind and faithful prayer for my pregnancy and safe delivery. God has answered to your prayer. I have received that gift from God on March 3. There were some complications in my post C-section period, but God was beside me and healed me from that situation. Now, I am feeling good and gaining strength day by day. My little baby Thomas Michael Roy (Marvin) is also doing good. He is having food from me properly. Praise God for that has blessed BMW in many ways. Mrinal got their baby boy on February 20 and Emon's wife also bore a baby boy on March 13. The BMW family is increasing biologically. I am so grateful to you all who have been praying for all of us for a long time. And through your faithful prayer all of our kids are healthy and doing fine.
Pray for all of my staff who are doing a good job and working hard to make the graduation programs successful. Please pray that all the staff and students will remain Corona virus free during this graduation season. We are so thankful to God that all of our staff has not caught the virus.
Pray for the movement of our national and international travelers who are moving and will be moving all around the country in April.
February 4, 2021–Please pray for our Coordinator Sanjoy Biswas as he needs God's help to cope as we transferred him to the South area in January. Also, pray for his wife and two kids, so they will adjust in this new area, new environment and new people. We have sent him with a specific mission. Pray that he will have success in his mission. Please pray for our evangelist Dalwar Hossain. He has resigned for personal issues. Pray that God may touch his heart and bring him back to our ministry. I would also like to request you to pray as we are recruiting volunteer staff for our growing ministry. We have already recruited 8 volunteer staff from our disciples, but we require more volunteers because our students are growing fast.
Pray for me so that I can figure out the comfort zone of the staff, their peace and requirments, so that I can provide a better working environment for them. That's how we can become a strong ministry team.
December 17, 2020–I want to give thanks to the Lord for all those blessings we were given through this year and I want to thank God for all of you who are constantly praying for us. I want to give thanks to God for all those hard workers He has chosen for this ministry.
Please give thanks to the Lord for all our students who have finished their course materials faithfully even in the pandemic when our teachers were unable to reach them physically.
Please pray for our new accountant Skakil Pamthet as he is still learning our accounts system. He is learning fast and doing a good job up to now. May God help him learn and adopt our system faster and he will serve the Lord faithfully.
Please pray for our student Sobuj from Gopalgonj who is now working as a volunteer with BMW. Please pray that he can prove his enthusiasm and faithfulness in serving Lord.
We need a new staff for Cox's Bazar area as the number of students is rising there. Please pray to the Lord that He may send His chosen one to us for His work.
November 10, 2020–Please give thanks to God for His love in our life and in our ministry. I want to give thanks for all of you who are constantly praying for us. Through your prayer God is guiding us toward His goal with this ministry.
I request everyone to give thanks to God for keeping Nipol's wife Lima safe during her ten month of pregnancy period. Our God is the God of Love that He kept the mother and her child safe. Now please pray for them as there are a few more days left for the delivery as their due date is 23 of October. Please pray for them so they can have the baby born without any difficulties.
Please keep praying for Mrinal's wife Bonita as her due date of delivery is on December. They are going through a very hard time. They have no one to help them take care of Bonita, who often falls sick, or do the household chores when Mrinal is at work. Please pray for them so they can get someone to help them and pass this hard time.
Please pray for Gopalgonj Area. We need a staff member at Gopalgonj for emergencies. Tithee and I are working on that desperately. Tithee has already started to take interviews. Please pray that God may lead us to the one He has chosen for our Gopalgonj ministry.
Please pray for Richard Kott as we have transferred him to Sreemangal. Now he will work at Kalighat area as we have many students here. Richard has personal weakness like his push back for his family, and he has a bit of laziness in him. Please pray for him so he can overcome these weaknesses.
October 15, 2020–Praise God for we had a blessed month in September. We had some major changes in the area accountants departments. Please pray for our Gopalgonj area, we have found some unfaithfulness activities from Gopalgonj staff Somiron Bakchi. For that reason we are losing many students in this area. So, please pray for the coordinators and me so that we can come to a solution with Somiron issue. We are looking for guidance from the Holy Spirit.
We were able to start two new ministry areas in the South-East and North area under Polash Sharma and Satish's leadership.
Pray for our coordinator's meeting in next week. Me and our director are going to train them on some particular and important issue. Please for our training program.
The weather in our country is very uncomfortable these days. The maximum number of students and staff are getting sick. Please pray for this unrest weather situation.
Please pray for me as I am physically very weak due to my pregnancy. 20 weeks running of my pregnancy.
September 3, 2020–Praise God that we were able to start our work at Sreemongal smoothly. And give thanks to the Lord that He kept all the staff members healthy. Please pray for Mrinal Boonerjee and his wife. Because after a several miscarriages, this time God has blessed them, and the baby in her womb is fine until her 5 months. Please keep praying for them so they can have a safe delivery and a healthy child.
I also would like everyone to pray for Nipol and his wife Lima as she is also in her 6 month of pregnancy.
I would like to request everyone to pray for Rimi Biswas as she is going through a hard time both in her family and personal life. Please pray for her that God may give her patience and peace, because going through a hard time for a long time may affect her work for God's kingdom.
Please give thanks to God for Mridul Biswas as he is working very hard as an evangelist. He is traveling many places to show the Jesus Film. Please pray for his safety on his journey and from this corona virus.
Please pray for Satish Soren as he has moved to Rajshahi last month. He has a desire in his heart to work in his own people. Please pray for him that God may use him according to His plan and Satish can get satisfactory opportunities.
Personal: Please pray for me as I have been suffering from strong headaches, dizziness, and low blood pressure for a couple of months. Please pray for my health's condition. I am becoming depressed for my physical weakness. I am a little behind of my regular accounts and HR work, but I hope I can catch up soon and complete all the work that is due. I am blessed that my father Barnobass K. Baroi is helping in our ministry. He is also working with me to complete all accounts work. Praise God that He has been with us all this time while settling down our office and residence at Sreemangal.
July 7, 2020—I give thanks to God for keeping us and all of the BMW staff safe. I would like to give thanks for all hard working staff who are working hard for His kingdom. Even in this pandemic and lockdown they are earnestly finding ways to fulfill their duties.  I also give thanks to God for you, prayer warriors, who are always praying for us, our work and our safety.
Answer of prayer: I thank God for Mrinal Boonerjee. As he now working very hard to reach his goal and to make up for all those years that he had lost. And also we prayed for his family as they had lost a baby previously. God answered our prayer by giving them opportunity to have a baby again, as Mrinal's wife is pregnant. Please pray for Bonita, Mrinal's wife, that God will help her and guide her so she will be able to keep this baby and give birth healthily.
Ministry Request: Please pray for us as we are going to move our office to Sreemangal. Pray that the moving procedure will go smoothly and the plan that God has for us will be fulfilled.
Please pray for Premanonda as he is responsible for a big area. He seems a little absentminded and despairing and that is affecting his work efficiency. And also he is suffering with some health issues.  Please pray for him that God may give him mentally peace and physical healing.
Please pray for Polash Sharma as he has been newly appointed as a coordinator of south-east zone of BMW working area. Please pray that he will be able to fulfill duties and responsibilities faithfully and boldly. Please pray for his wife Beauty as her delivery date is within this week. Please pray that she can give birth to a healthy baby and she may recover fast.
Please pray for Tithee Malakar as she has been appointed as assistant coordinator of south zone of BMW working area. This is a difficult and most corrupted area. As a young child now it is her time to prove her ability and earn respect and acceptance from our society. Please pray for her that God may help her and guide her to reach to the goal that God has planned for her.
Please give thanks to God that this month our teachers were able to include new students in BMW groups in this pandemic. Praise the Lord that God is calling for His children in every place. Please pray for our teachers so God will give them wisdom and knowledge to guide this students.
April 25, 2020–Answer to prayer: Praise God that all of our newly married couples are doing fine. It's good news that Nipol's wife is pregnant and also Polash's wife is pregnant. Please pray for them as they are not getting proper medical support for this lockdown situation.
Ministry: I give thanks we got Mrinal Boonerjee back again in our ministry. Please pray for him so he can make good progress in his evangelism work. Pray for his family asking God to help them and comfort them because his wife had miscarriages several times.
I also got Somiron Bakchi back in our ministry. This time we recruited him as well as his wife for the Gopalgonj area. It's a new area for them. We praise God that they found a nice apartment for their residence. Pray for them so they would be well accepted in this new area. And God may help them to prove themselves as a successful minister.
We praise God that most of our staff got good training on Hermeneutics from David Decook and Thomas Roy. Now, please pray for our staff who received the training on Hermeneutics may understand and be good at interpretation. Pray for those who are also taking a class on Hermeneutics by Thomas Roy over the phone. Pray for all of them for good success in their spiritual life as well as in their ministry life.
We have recruited two new staff who are Anik Dey and Dipok Murmu. Pray for them so that they may understand the core value of BMW ministry and become a successful minister.
February 26, 2020–I am having some problem concentrating and when I do concentrate I get headaches.  Some peace in my heart is needed.  I have heavy responsibilities which bring tension.  Pray for Glory who missed two months of school during our big ministry season, that she can catch up without too much pressure.  It will help if she doesn't catch cold, which will set her back even more.  Also we need wisdom to give her time and attention to meet her emotional needs and understand how much God loves her and how to live in a way that pleases God.
My goal for 2019 that I set forth in 2017 was to have our BMW families in good relationship with each other.  One family was imbalanced and the wife was sick and discouraged.  That family is happier and healthier now.  One new couple that has heavy responsibilities I am concerned about.  I want everyone to pray for them.  Orville and Shampa and Regan and Happy are off to a good start.  Now two brand new couples married in December and February: Nipol and Lima, Milton and Momena.  If husband and wife fight with each other, then the ministry will suffer.  If they have a good relationship, they will be happy and productive.  I try to minister to the wives and pray for them.
We are concerned for Rimi and Premanondo who are marriagable, but not finding a mate.  May they see God's plan and not react to the pressure of the family or community.
In 2020 I am training three people to do BMW accounting in their areas:  New employee Anik at the home office; Swapna at Gopalganj; Happy in Khulna.  The more successful I am in this, the more I will be able to focus on HR issues.  We just brought back Samiron and Mrinal into BMW who had to leave BMW in the past.  We believe God is giving them a new start.  Pray that in their probationary period they can show changed hearts so they can become full-time workers again.
December 12, 2019-
Ministry: Praise God for all His blessings for BD ministry. I am so thankful to God that by His grace we were able to complete one more ministry year of 2019. We are now finishing up our all activities. As an accountant, I am so thankful to all my staff who were very faithful to their accounts all year long. Pray that we can keep our accounts transparent as always. All my staff are going to celebrate the birth ceremony of our savior Jesus. Pray for them so that they can enjoy and have a successful celebration of Christmas with their family. All our staff's families were so much supportive all year long.  Please keep all my staff in your prayer so that they can be healthy and stay strong in their faith, keep them in your prayer so that they can successfully finish the graduation season. This year we are having 6 new graduations in six different districts. So, pray for the staff who are going to lead the graduation program for the first time.
November 9, 2019–Pray for all my staff who are working in different areas, in different situations, and in different consequences. Pray for their safety in all movements for the ministry field. Pray they can be strong and brave to face any kind of trouble. We are working on staff development for their strong spiritual life. As an HR, my concern and burden for them is they will mature and become more capable to win more souls for the kingdom of God. We are providing them with training and teaching on scripture. Praise God that Thomas Roy is providing them a quality education on scripture as well as on our course materials. Pray for our upcoming programs like the Graduation program, leadership camp and training program. Pray that we can successfully complete the preparation work for those programs.
August 21, 2019–As I am in Human Resources, I am thankful to God that I am getting responses from all of my coworkers. Pray the wisdom and knowledge that they very much require to face and overcome the worldly temptations. Pray for all the staff who are given duty for Muslim evangelism. Pray for we are planning go for a staff retreat to Cox's Bazar in the first week of September. Our target is to build a strong relationship among the staff and find out some servanthood leaders. And also, our director is preparing to emphasize discipleship and provide a whole day training on that. All our staff are working on discipleship. Pray for their success on discipleship.
July 28, 2019–I am so thankful God that He has blessed me in so many ways. My father was so helpful to me to maintain my accounts. Now, I don't have any due work. Everything is going with my accounts smoothly. God also gave my husband a wonderful opportunity to pursue a seminary degree in Thailand. He is now in Thailand. Pray for him for the wisdom and knowledge that he needs to complete his course. Beside my finance work, I am teaching some of our teachers on our course materials over phone. Pray for all staff that we have in Bangladesh as they are working hard to reach their goal and prepare the students for the next graduation program. We like to praise God that He has supplied us with all kinds of financial needs. We need some more full-time staffs. I believe God can provide us, the workers that we need right now.
July 3, 2019–Pray for me as I am taking care of the ministry in the absence of our director Matthew Roy. Thanks God that my father Barnobas is helping a lot to maintain the accounts. Pray for me, Satish and Sanjoy as we are carrying the highest responsibilities to run this ministry. Give thanks that God provided a new staff in Sylhet. His name is Philiph Samadder. Pray for him so that he could understand all of our ministry settings soon and work faithfully. Pray for Polash Sharma as he moved to Chittagong and taking care of whole Chittagong division. We need another staff for Barishal area. Please ask God for sending a worker for this area.
July 3, 2019–I would like to give thanks to my Lord for He has healed my daughter Glory. She was suffering from severe cough and fever. Pray for my husband as he is taking his seminary degree in Thailand. Pray for him so that God guide him and give him wisdom and knowledge for successful completion of his seminary.
March 27, 2019–I am working as a HR and Accountant in BMW Bangladesh ministry. I have been serving Lord from the very next day of my marriage day. Pray for me so that I can be help this ministry as well as my husband by staying healthy. One of our student name Rufina Tata is suffering from leukemia. Her blood development has been stopped from last month. Now she is very weak and loosing her hair. She may have to go to India for this treatment. So, please pray for Rufina and for this family as they became very much worried about her health situation.
March 27, 2019–I have been suffering from physical weaknesses for a long time. I went to doctor and had to gone through many medical test but all test report is normal. I have only low blood pressure. But I was so weak. That's why I brought my parents stay with me to help me. From last couple days I am feeling much better. I could start to concentrate on my work. Thanks God that my father is helping me a lot in my office.
February 11, 2019–Pray for my sister Jacklin who is away from the Lord.  Also, I would like to share the Gospel with Mithun.