Testimony…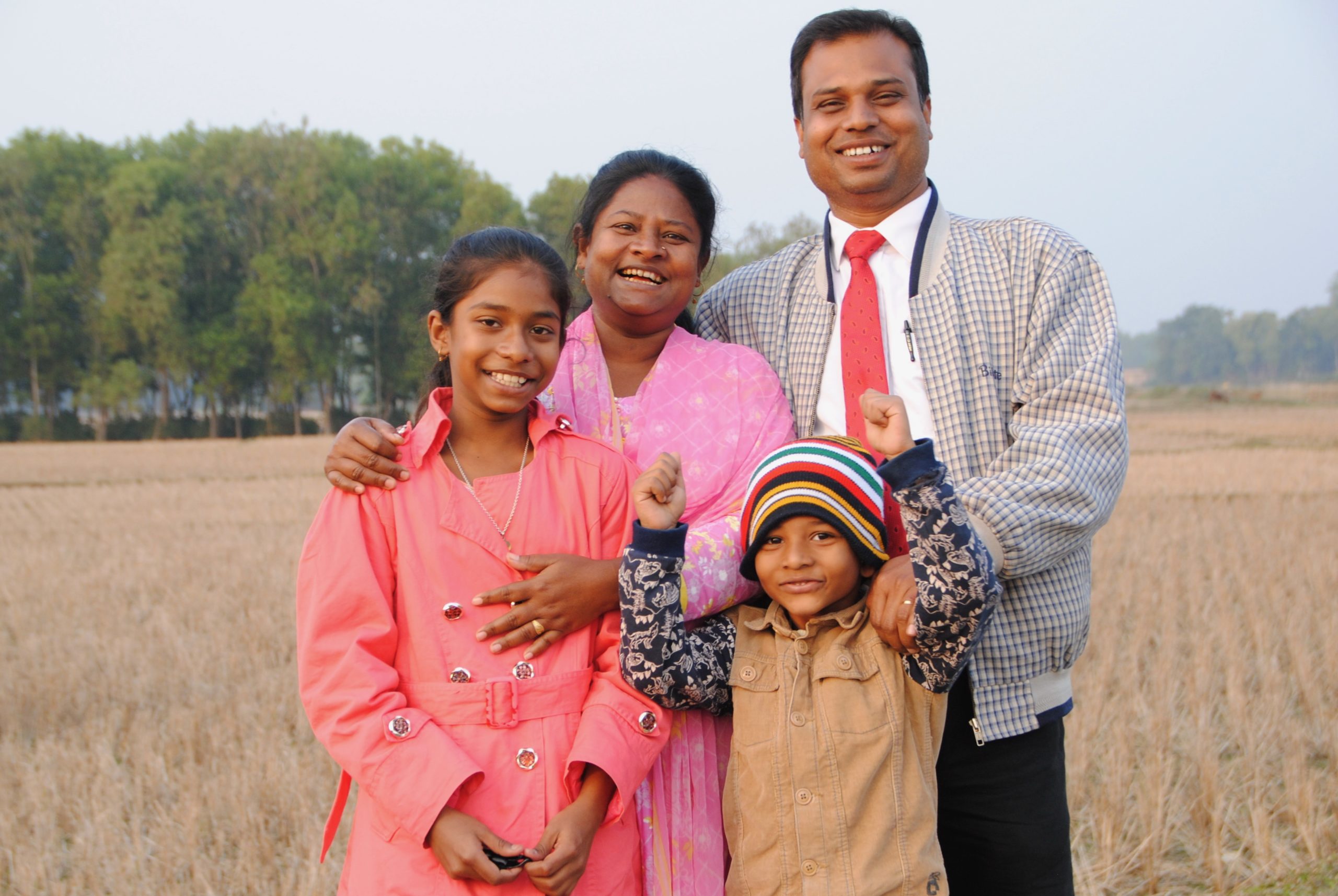 My name is Sanjoy Biswas. I was born in a Hindu family. I used to follow the Hindu culture, rules and regulation. I was very much devoted for worshiping idols. I used to sing song, dance, making vows and all other activities to make the God happy. I born in Jessore district and Kaligonj sub-district. My village name is Vatpara. I passed my childhood in my village.
One day I found a tract which was written about the LOVE. It was written in that tract that how God showed His love for me and what he has done for me. The key verse was John 3:16. I enjoyed reading it and kept it with me. I often read that and start to think that why the small book talked about the love of God. Why Jesus died for human being. It was written in the tract that Jesus died for all. So, that must be including me. This tract must be from Christian religion but why Jesus died for Hindu or Muslims. I was in fifth grade student that time. I start to go to a church in our area and met with the pastor. I wanted to know more about from him. I was so much enthusiastic to know more about Christian God. As my parents was Hindu that's why without letting them know I used to attend to Sunday School and church service. When I was in sixth grade one day the pastor asked me, "Do you want to study in a Christian hostel where you can study with free of cost and there you will be able to learn more about God." As my parents were poor, they allowed me to go and have education. So, I went to Khulna and took admission in a Christian hostel named CSS. In that hostel we had to sit for the devotion every morning and evening. I got a Bible from the hostel and I used to read Bible every day. One day in 1995, month of April I attend to revival meeting where the main verse was John 3:16. In that revival meeting God touched my heart and I became more clearer why Jesus came to the earth and died for me. After that I found a verse where it was written that if I believe and accept Christ in my life, He will give me the right to become a child of God, John 1:12. That verse was just amazing to me. I submitted myself to Him and confessed for my sin asked for forgiveness and took Jesus Christ as my savior. From that day start feel peace inside of my heart.  In 1996 I took baptism and I start to live as a child of God. Even though my father died but I know I have heavenly father who is taking care of me. In my age of 23 I became married with Mollika Biswas. After marriage we both start ministering Christ together. God gave us a daughter name Maria and a son named Moses. Still now we are ministering our Lord together wilt all our heart and mind.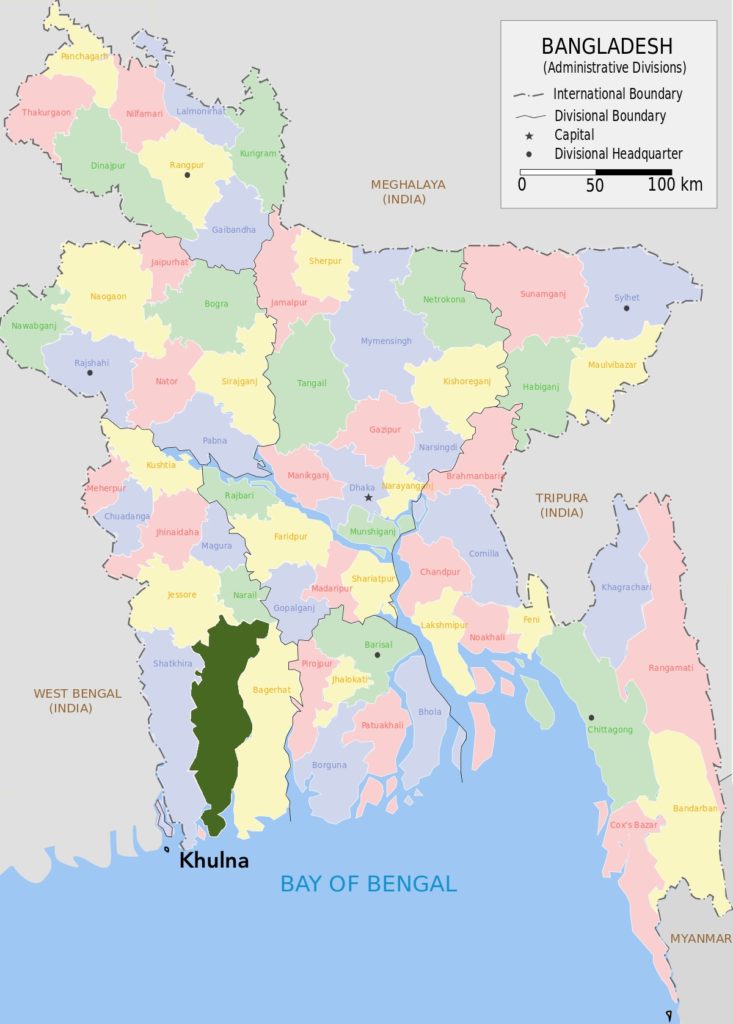 Ministry and Personal Prayer Requests
August 3, 2021–Please give thanks to the Lord that He has kept me safe in this pandemic situation. Please give thanks that the Lord has provided for us Alfred Biswas for the new Shatkhira area and Shovon Biswas for the Gopalgonj area. The Lord has answered our prayer. We were able to arrange a training among South and South-West area staff from 2nd July. We had the opportunities to train ourselves in this lockdown situation. I was able to distribute 50 tracts, visit 10 families and memorize 5 new verses in July. Thanks for praying for me.
My grandmother has received Christ as her personal savior. Her name is Souravi Das and she is 90 years old. Please give thanks to that Lord that she finally realized the necessity of Christ in her life. May the Lord provide me the chance to give her baptism as soon as possible.
We have a total of 55 students in Shatkhira. All of them are Catholic. Please pray for them so that they can understand the courses of BMW. Please also pray for Khulna Small Group Fellowship so that it can be arranged regularly to keep everyone encouraged. I especially request prayer for the Shatkhira district so that we can manage 100 Hindu and 50 Muslim students.
We need more staff in the Narail and Jhinaidah areas so we can spread our work there too. Please pray for that. God may provide us everything we need. I am a little weak in English and Computer learning. Every day I am trying to learn a new subject and practice it. Please keep me in your prayer so that I can improve my English and computer skill.
I have a desire to distribute 50 tracts, visit 20 families, share the gospel with 5 people, and memorize 5 new verses in August. Please pray for me so that I can fulfill my target for the month July.
February 5, 2021–Praise God that by His grace I am still alive. Some Muslim family rescued me when I had fall in an accident in last December. God used those people and spared my life. There were three different families. I went to visit them later and shared my testimony with them. I have showed my love and gratitude to them and also shared the love of Christ. They loved my testimony. One of them named Iasin showed his interest about our religion and I gave him a Bible. Please pray for those families that they may realize and know the love of Christ. I will keep contact with them.
By God's plan, I have moved to the Khulna area from Sreemangal. The shifting was good by the presence of God. God was with me and helped me in various ways. We found a good place for our residence. My aim for 2021 is to serve God along with my family. Please pray for me and for my family so that we can be stand firm in all kinds of circumstances.
Now I am working with South Area Coordinator Tithee Malaker and learning about the ministry work in this area. I am visiting all the groups and new areas with her. Pray for me so that I can grab all my responsibilities pretty quick. Pray for those people to whom I have given a gospel tract. Last month I gave 78 tracts. And for next month my target is to distribute 100 tracts.
Pray for my wife as she has a tumor in her hand. It's bothering her a lot. Please pray for her so that she can get rid of that by the grace of God.
December 17, 2020- My Muslim friend brother Kardul Islam is doing good. I have given him a Bible and he is studying the Bible in Muslim version. Pray he will will understand what he is reading.
I am so blessed that I have received a new life from a life threating attack by a thousand bees. God saved my life. Now, I am doing good and feeling good.
I have an answer to prayer that we have received the permission from the Catholic archbishop to work in their community. Now, pray that we can win many souls from these Catholic background people who are Christian by name and yet didn't receive salvation.
I am working with a Hindu family and made a good relationship with both husband and wife. The husband's name is Prodip Devnath, a schoolteacher. Pray that they will understand the love of God through me.
I have shared my personal testimony to three Muslim families. They are Shumon Miah and his family, Rubel Miah and his family and Abdul Hossain and his family. Pray that they will come to know about the love of God through me. I will continue visit them and will try to win their heart for Lord.
My goal is to share the gospel to 20 people and distribute 50 tracts in the Christmas season. I am planning to visit 10 families for church in this month. My goal is to share the Bridge Illustration to 6 people in this month.
I am suffering from heel pain in my leg, so please pray for me.
November 10, 2020-I have a Muslim friend named Karidul Islam whom I met at Cox's Bazar and who has received Jesus Christ as his savior. I am keeping contact with him on a regular basis. He asked us to pray for his father's family (father, mother, and sister) so they will come to Jesus and receive Him as their personal savior as well as his own family. He also asked us to pray for his sister who is suffering from psychological issues.
I have given a tract to Barun Tanti who has visited us in our land. My target is to teach him more about Jesus Christ and help him to believe. Please pray for me and Barun as well. Also, pray for many of our unbeliever students who are coming to our land to play badminton with us every evening and whom I am sharing the gospel with and handing over gospel tracts to them. Pray so that we can win their heart for Jesus Christ.
Please pray for Prince Rana Roy who has converted and came to Jesus Christ through our BMW Bible Class for he has completed one-year discipleship training from CDC (Christian Discipleship Center) and is now preparing himself to become a servant of Jesus Christ and work for the kingdom of God.
Praise God that I had a successful meeting with the Catholic Priest Ronjit from Sylhet District. He has allowed us to work with the Catholic Students in all Catholic Churches in Sylhet District. I am also planning to meet with the Catholic priest from Moulvibazar district. Pray that I can have a successful meeting with him.
We are also continuing to communicate and have conversations with Rajghat village governing people so that we may have approval from them. Please continue praying for those leaders.
October 15, 2020–Please pray for my North-East area as we have taken some goals to improve our ministry work. Phillip Samadder is working hard to reach 250 students. Now he has 160 students. Mrinal's goal is to include 100 more students by December. Richard's goal is to include 100 more by December. Pray for some unrest situations in my ministry area. About 170 students are missing from the ministry from different areas. Two groups from Rajghat are temporarily stopped by the local higher authority and 8 groups from Moulvibazar and Hobigonj area are also stopped by the Church Board Committee. Please pray so that we can start over those groups soon.
September 3, 2020– Please Pray for the Komolgonj area. Students in this ministry field are not showing very much interest in the Bible Study group. We are planning to make a new field in the Hobigonj area. Pray as some guardians in Sreemangal area are not allowing their children to continue their class. That is why some students quit from the BMW Bible class. Please pray for their parents.
A group named Nurjahn is very weak in Bible class. Please pray for this group. Pray for two of our students named Rina Gomes and Shova Bairagee who are suffering from cancer. Please pray for them.
We are making a storehouse in our land for BMW. Give thanks that we were able to build this house successfully. We did it all by ourselves. God gave us strength and wisdom to do this building work.
Pray for my disciples so that they can be strong in their faith. I am teaching them to grow in their faith.
Personal: I was very sick last week. I would like to thank you all who prayed for me. Now I am doing good. I have some physical weakness. Please pray for that.
July 5, 2020– Ministry:I like to give thanks that me and all my staff, Philip, Mrinal, Dipok and Richard, are still safe and are not attacked by Covid-19 by your prayer support. Also, none of our students are attacked by Covid-19. There are still some lockdowns in some specific areas, but I have started our field work in those places where there is no barrier. I would like to thank God for He has made the way for us so that we may reach the maximum number of students. We have also got to form 5 new groups in the Sreemangal area. Our existing groups are making good progress with their materials. They are trying their best to cover their due works. So, I thank you for your prayer support.
Pray for Richard as he is looking for an office and residence in the Komolgonj area. In his village the phone network is very weak. Richard was promoted to full time staff this month. Pray that he can be more fruitful in his ministry. He has started working in another district named Habigonj where we are looking for conducting our graduation program next year.
Pray for our Mercy Fund distribution programs. We are reaching out to many students and families who are surviving because of the pandemic. So, we like to thank you for your prayer and financial support. Pray for all my staff who are working so hard to find out the survivors. And pray for us so we may be able to find out the real survivors and reach them with the mercy of God.
I am continuing to have discipleship classes with my 5 disciples, Andrew Induar, Shourav Tapno, Richard Kot, Simion Biswas and Dipok Murmu. They are also working on discipleship. Pray for them so they can be true disciples of Christ. And a special request for them is they all are working with unbeliever students. So, please pray for them so that they can be a strong witness and sow the seeds of good news and then nurture them.
Personal: Please pray for my wife as she often suffers from terrible headaches. She has been suffering from this headache for a long time. Pray for me as well, I also feel very weak most of the time due to high blood pressure.
June 19, 2020–Apu Tati (23) was our BMW student and he knows about Jesus. His opinion about Jesus is, ''Jesus is righteous, and has authority to give salvation because He died for our sin, but before I accept Jesus in my life I want to know more about Jesus."
June 17, 2020–Shira Roy (age 17) is our BMW student and she was sharing that she is enjoying it when I share the good news about Jesus. I asked her what you think about Jesus? She replied that Jesus died for our sin and only He can give the salvation. Now she is believing in Jesus.
June 15, 2020–Khusi Tanti (18) is our BMW student. After sharing the Bridge illustration with her, I asked her if she had heard this before? She said no. Her opinion is this is the first time she heard about salvation and wants to know more about Jesus. She realized that only Jesus can give salvation because He died for our sin and took all the punishment on behalf of us.
May 27, 2020–Ministry:I like to give thanks to all of you who are faithfully praying for me and my ministry here in Sreemongol area. I am trying hard and soul to continue my ministry work in this lock-down situation. All my staff are also trying their best to reach the students. In my ministry area the majority of students live in remote tea-garden areas. They are unreached because the cellular network is not available in those areas. As a result, we are missing classes with those students. But whom I can reach by phone I contact and also take classes over the phone. This month I was able to reach 60% of my total students. Most of them doesn't want to take class over the phone. They want me to go and take their class physically but for lock-down situation I am unable to go. Two of my students Robi and Jit are suffering from fever. Please pray for them.
I am also having my discipleship work smoothly. I am taking a regular class with my disciples. They are Richard Kot, Simion Biswas, Andrio Induar, Dipok murmu and Shourov Topno. They are very attentive in their regular Bible study. My disciple Richard kot is struggling with lots of temptation nowadays. He asked for prayer so that he can overcome all those temptations by God's grace. Please pray for my disciples Richard kot. All of them are growing spiritually. Pray for them so that they can stay away from all kinds of worldly temptations and trials. They are completing their homework faithfully.
I was able to share the gospel with two of my Hindu students, Milon Tanti and Topu Bahar. I am interested in salvation. Please pray for them so that Holy Spirit may work in them and soften their mind so that they may come to receive Christ as their savior.
May 21, 2020–Topu, a Hindu, age 18, understood the way to eternal life. He is willing to receive salvation. Please pray for him. 
May 19, 2020–Milton, a Hindu, age 35, believes on salvation by works. He believes that only his good works for God can take him to heaven. He learned about salvation by faith, but he always focuses on good works. Please pray for him day by day so he will understand the real truth. 
April 18, 2020–I praise God He has kept us safe and sound during this crisis. Praise God that none of our students are infected by COVID-19 yet. I am communicating with my students on a regular basis. Last week I got to talk with 33 students. Mostly, I am talking with the team leaders and assistant team leaders. I am talking with the leaders because the maximum students in the tea garden area don't have phones. Sometimes I talk with some students through their parents' cell phone. So, I try to reach them through the team leaders. Pray for my team leaders so that they become more enthusiastic to help their members to complete their course materials. And also pray for all non-Christian students who are completing their study materials that they will understand the Word. They are struggling with their materials because I am unable to go to them to take their class as I am locked down by the government. So, please pray for those unbeliever students so that they won't become discouraged. I am also making phone calls with all my staff, encouraging them to utilize their time in a proper way, encouraging them to pass their maximum time for having fellowship with God. Pray for my two disciple Andrew and Shourov as they are learning 5 assurances by God. I am teaching them and helping them on 5 assurances. Pray they will have a clear understanding. They are also helping me to reach the students and helping other students for completing their course materials. Please pray for my new staff Dipok Murmu as he is a little depressed because of the lockdown situation. He is feeling so bad because he started his job with us last month and within one month everything is locked down. Please pray for him. He is studying on BTCP course materials, Thomas Roy and me are teaching him on this materials. From this week I am going to start teaching Richard and Mrinal on BTCP course materials. So, also pray for Mrinal and Richard so they will be able to understand the BTCP course materials.
February 19, 2020–Maria and Moses were sick last week while I was away at the hermeneutics training and God has made them well, Praise the Lord!  Maria has passed into the fifth grade.  Thank God for her progress!  Moses is now a brand-new student in school, and he likes it!  My wife Mollika and I are in good health right now.  Praise the Lord!
Taposh Boonerjee, a BMW student was in a road accident and is still in the hospital with an injured leg. Pray for his complete healing.
Pray for another full-time teacher for the Sreemongol area because our students are 95% Hindu and need lots of teaching.  It is too hard for me to meet all their needs.
Pray for the students that they will all start a new BMW course right away this year.  Our goal is to have 300 students this year.  Pray that I can develop 5 strong volunteers for this area.  It is hard to get volunteers when there is no Christian community.
December 12, 2019–Ministry: All of my staff in my ministry area are working so hard for the upcoming graduation program. We have almost finished with taking the final exam from the students. Pray that this graduation program will encourage our Hindu students. The maximum number of our graduates are Hindu. Pray that they all will get to know the way of salvation and receive salvation. Personal: Pray for my son Moses Biswas. He suffers from fever pretty often. We don't know the reason. Pray that God will heal him completely.
November 8, 2019–I like to give thanks to the lord that He kept us so well. My daughter is suffering from toothache. Please pray for her.
Most of my students are Hindu. They come and try to understand Christ. I am very thankful to God for them. A group named Nurjahan is very weak. They are almost illiterate and Hindu. Students named Dipu Bayhar and Simion Biswas are very sick. Pray for their healing so that next month I can give thanks for them.  About 15 students are going to complete their diploma course this year. Pray for me so that I can prepare every student for the graduation. Pray for all Hindu students for whom I am giving my full effort so that they can complete their materials and receive graduation.
October 24, 2019--Sumita (Hindu, age 19) doesn't want to stay as a sinner. She wants forgiveness of her sins. She thinks that she needs a savior. But she didn't accept Jesus. She wants to know more.
October 24, 2019–Dipa (Hindu, age 17) did admit that Jesus was so holy and a godly man and that he died for our sin. She thinks she should confess her sins and needs forgiveness to go to heaven, but she didn't accept Him. She wants to know more.
October 23, 2019–Akash (Hindu, age 20) came to know about Jesus for the first time. He didn't accept Jesus, but he expressed that he wanted to know more about Jesus.
October 22, 2019–Sobuj (Muslim, age 20) admits that Isha was a holy man. Sobuj didn't know that Isha died for us. He believes that he exits, but he didn't accept him in his life.
September 25, 2019–I shard the Bridge illustration with Suphia (age 22) and explained If you want to go heaven we can go to heaven through Jesus Christ. Then she replied I know that Isa Messiah is God Prophet and if we believe then we can go there, but she didn't really believe on him. Please pray for her.
September 25, 2019–Dipok (age 20) heard about Jesus before but never knew what He did for me. After I shared Gospel with him, he came to know that Jesus is the Christ. He is the only savior. But he wants to know more about Jesus wondering if He was really is the connector between God and us. He didn't receive Jesus yet.
September 18, 2019–Akashi (age 19) came to know that there is a person named Jesus and He died for our sins so we can live in heaven with our father God. She admitted that Jesus was a good man and maybe he was holy, but she couldn't agree that there can be such a way of going heaven and getting salvation like this. She is confused and didn't receive my message. Pray for her patience please.
September 18, 2019–When I shared the Bridge illustration with Dipa (age 18), she came to know that Jesus died for us all to save us from our sins. She was quite convinced that Jesus might be the savior of us, but she didn't accept Jesus. She wanted to know more about Him. Pray for her so that she can finally select Jesus in her heart.
August 19, 2019– Praise the Lord! And I would like to give thanks to my Lord because He healed me and my daughter Maria. Maria had some infection in her ear, and she suffered a lot for pain. Now she is completely healed. I had also terrible chest pain in my left side and muscles pain on my back side. I suffered with this pain for 4 days. Now I am free from all pain and I am doing work by staying healthy. Pray for me so that I don't face any heart disease. I am little worried about it. Pray for me so that God may take away all my stress and anxiety. I also, thank God because I got released from heavy duty. I have been praying for a long time so that He provide us a worker/evangelist for Sreemongol area, and He answered my prayer. He helped us to have Mrinal Bunerjee back to work as an evangelist. Now, he has taken some of my heavy load. I am feeling much stress free now. Pray for brother Mrinal so that he can work properly as an evangelist. God brought a big change in his life. He is now convicted and trying to win over his anger. He fully submitted himself for His ministry.
Pray that our students are now sitting for exam on BMW course materials. Many of them are about to finish their yearly course and taking preparation for final exam for graduation. Please pray for our Hindu students who are doing 4th year course. Our God and the Prophets Book-5 is written on Trinity. So, the Hindu students have many questions and curiosity about Trinity. Pray for me so that I can teach them properly and pray for them so that they can get the spirit of understanding.
Pray for our new babies in Christ in Kalighat area so that they can grow in maturity on Scripture. I am helping them on a regular basis. Pray for our upcoming programs with them. My next meeting with them on August 23 where we will pass some time with teaching from Scripture will have a nice fellowship. The meeting will start at 10:00 am and will continue until 12:00pm. And on August 25, we will take them to a big and well reputed Church at Jagchara to have a Christian fellowship. We hope they will receive some love of Christ from the Church member. Pray that they will welcome us and enjoy having fellowship with us.
Pray for Mamoni's parents as they may know the love of Christ properly and receive Him as their savior. Day before yesterday me and brother Mrinal visited that family and had a fellowship prayer meeting for 2 hours. They received us cordially and listened from the Scripture with patience. We have been visiting them and sharing the gospel with them for many days. Mamoni, our volunteer, received Jesus Christ as her savior now she wants her parents and her brother's family will receive the salvation. Pray for me and brother Mrinal so that we can win their heart for Christ.
July 26, 2019–I especially seek prayer for Srimongol, Komolagonj, Sylhet, Banskhali and Khagrachori area. Most students are Hindu. Their family may know Jesus through them. Besides I went to visit Komolagonj and Sylhet area, and also shared Bridge illustration to at least 5 people, visited 10 families and took classes of 15-20 teams. I also went to share the gospel, personal testimony, and tracks in coming months more than last month. I run a Sunday school program and worship in our church every Sunday. We need a full-time evangelist and a teacher as well for all these works. Please pray for these all.
July 26, 2019–Students: Most of the students are suffering from seasonal sickness. The mother and sister of a BMW student, Sourav Topno, are very sick. They need AB+ and B- blood.  Pray for one of the students, Andrew, and his family, as they lost their father and husband last month. Please pray for them. Pray for every student so that they can grow through Jesus.  Pray for the all Hindu students in Kalighat area so that they know about God and His love properly.  They are interested in Bible course but for being alone I cannot give proper time to all of them. More students are showing their interest to take our course.
July 6, 2019–Give thanks that we could have finished our monthly team leaders meeting at Sylhet and Sreemongol and Komolgonj area. Pray for me as I am going to visit Chittagong District on July 8. There I will give some training to the teachers and will take some exams who have finished their first-year course. I am going lead meeting with all of our staff there. So, please pray for me so that I could be able to guide them and help them to continue the faithful ministry. We are so grateful to God that He has provided us a full-time staff for Sylhet area. His name is Philip Samadder. Pray for brother Philip so that he could be able to take a strong and faithful ministry up in Sylhet area. I was able to share the Gospel through Bridge illustration with Barun Tanti and Puja Tanti. Pray for them so that they may convicted about their sin, confess their sin and receive salvation. They understood very well that how to receive eternal life.
July 26, 2019–I give thanks to God for my family. He kept everyone well. I also give thanks that He gave me security on the whole way of visiting and staff meeting in Chittagong. Mollika, Mariya , Moses, we all are well. Mariya is feeling much better from her yar pain. Pray for me as sometimes I feel very weak and sometimes, I feel depressed while managing everything.
March 25, 2019–My wife Mollika Biswas is sick. She is suffering from joint pain. Please pray for her. Also pray for my daughter and son as they are studying.
March 25, 2019–Now I am taking care of 5 districts under two divisions as a coordinator. The districts are Sylhet, Moulovibazar, Hobigonj, Chittagong, Khagrachori. All districts are very remote and large districts. I have only three teachers now. I need at least two more staff right now. So, I would like to request you to pray for the worker that we required right away. Give thanks that Richard is back from his family problem and he started to concentrate on ministry. He is making new groups both in Moulovibazar and Hobigonj. So, pray for Richard so that he can give his best for the ministry. He is one of our very faithful staff, but he has some laziness problem. He also suffers from headache pretty often specially from direct sunlight. Pray for Polash Shorma as he is taking care of two districts all alone. Pray for his safety while traveling. Pray for our BCT land, we started to make a big gate project and extending a baranda in front of the Church building. We are also filling up the land partly. We are in shortage of money. Pray that God will be merciful and we could be able to raise sufficient funds for this project. Our church service and Sunday School program is going very well. All non-Christian teachers are attending to the service regularly and all school students are attending to the Sunday School every week. Pray that we could able to help them to understand the truth and love of God. The BCT board Chairman, Matthew Roy, and Board member, Barnobas Kishor, came and attend to church service this week. Barnobas Kishor gave the sermon on salvation and we noticed a good response from the unbeliever attendees.
February 25, 2019–Pray for me to meet my goal of having 300 BMW students involved by the end of June and to graduate 150 by December 15.