BMW Director's Report
September 15, 2017
Shareholders's Dinner Plans
I have been meeting regularly with Dennis to keep our plans on track.  At this stage we need the purposeful involvement of the board to invite people and to sponsor tables.
Visit to Bangladesh plans
Dr. June used her credit card to purchase a number tickets while the prices were low and her card had a 5% extra discount:  Ansari, Thomas, myself and herself.  The schedule as follows:
Basic schedule is this:
Jan 2 arrive in BD
Jan 3 travel to Dinajpur
Jan 5 graduation
Jan 7 return to Dhaka
Jan 9 receive Bill Wolf
Jan 10 travel to Khulna
Jan 12 Khulna graduation
Jan 13 Jessore graduation
Jan 14 Nan flies out from Jessore
Jan 15 Barishal
Jan 16 Begin Leadership camp
Jan 21 return to Dhaka
Jan 25 travel to Sylhet
Jan 26 Sylhet graduation
Jan 27 Sylhet clinic
Jan 28 Sylhet clinic
Jan 29 Sylhet clinic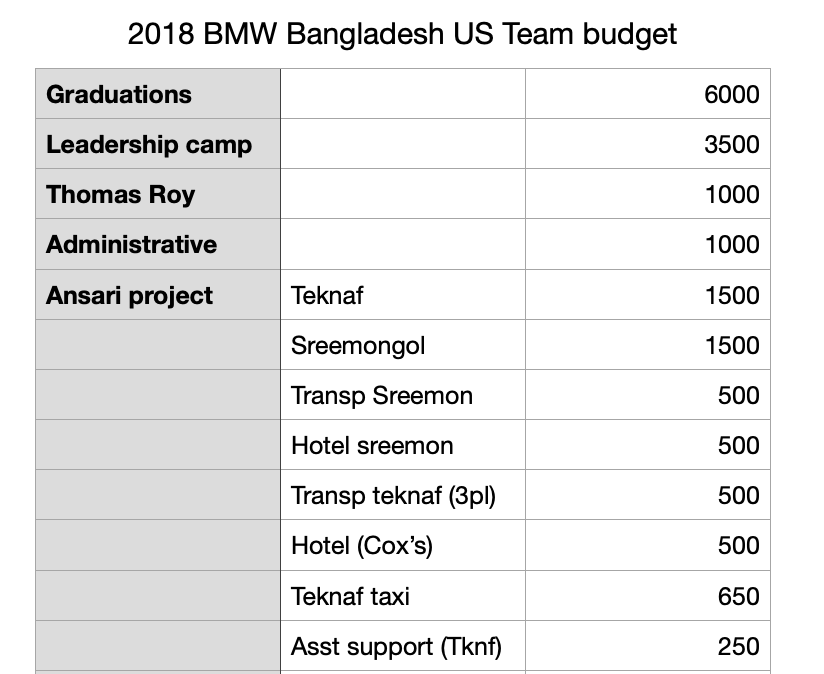 Visit to Toronto
Thomas and I went to Toronto with an invitation to speak at a spiritual retreat organized by some Bengali Christians.  In follow-up meetings in homes we found a strong interest in an ongoing ministry with us as equippers.  See attachment proposal.
Situation with Rosemerry
It was necessary for Rosemerry to initiate a divorce and move to a different district for her safety and the safety of our ministry.  She will be serving in Dinajpur district for the foreseeable future.  Joydeb recently moved there as well. So finally Premanondo is getting the help he has needed.  There are volunteers in Khulna who will be attempting to fill their shoes.
Work reports of staff
I held two meetings with Bill and Dennis to develop a new way to report on our work and relate it directly to our job descriptions.
Giving for August
Report is attached.  $19,158 total.