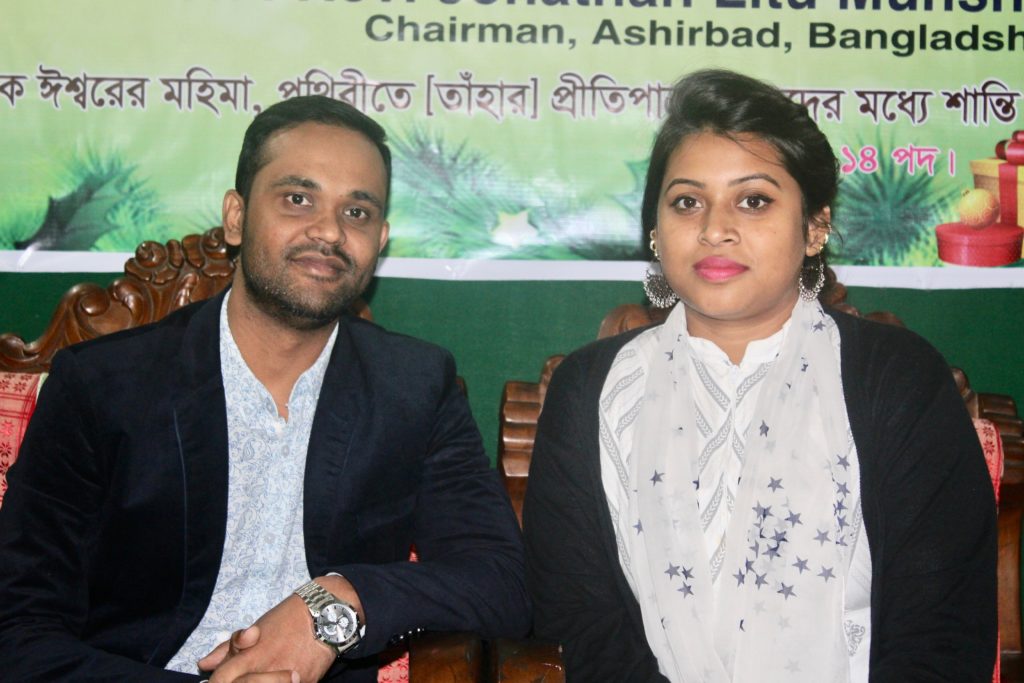 Arifa (Angel):
I grew up in a high middle class family with a very comfortable life. I was happy about my love marriage. Every girl has some tension about her new family after marriage, but I was very happy because my husband is very friendly, he gives me everything before I ask. I did not cry one time after coming to husband's house. There were some restrictions in my father's house but none in husband's house. So, I was very proud of my husband's love. It was my precious life where there was no tension and it was a very comfortable life. 
My husband was involved with many types of businesses; like plastic raw materials, online marketing business and he had a supermarket. In 2017, his business had a great fall. He was a good cricket player and could have been hired in different districts. And he was an independent earner from his early age because my father-in-law and mother-in-law are both congenitally deaf and dumb. Because of that he had to take the responsibilities of his father's family and he went away from studies to concentrate on business. Until March 2017, we were in very good shape and my husband's business was running very well. I took a break from my job to take care of my family, but in April 2017, my husband's business collapsed. He became very worried.  I thought that it was my fault; I did not pray properly and that's why the business collapsed. So, I started praying daily, all five times (the Muslim standard of holiness) and became very devoted to Allah. But there was no improvement in the situation. It was getting worse.  At that time our money in the bank was finished and we had to sell our land and our car to pay our loan.  
After Christmas, David told me that we would have to leave our house on the 1st of January, 2018.  He decided to send me to my father's house and to send his parents to his sister's house. But I decided not to leave him. So, we sent our parents and brothers to our relative's house.  At that time, we contacted a Christian family we knew to get shelter. We have known James for 15 years.  He gave us shelter; we started to live with them.  When we used to go to James's house he would talk about Jesus, but we felt very annoyed. When we started to live in their house, he got more opportunities to tell us about Jesus.  We still felt very annoyed, David especially did.  Daily James invited us to his house fellowship to join the group prayer.  He said they wanted to pray for us.  He tried to give us assurance that God  will show us a way. But we did not believe his words and were very angry.  
We finally came to his prayer meeting just to show him respect.  At that prayer meeting James quoted from both the Qur'an and the Bible. We were very surprised to hear Bengali translations of the Qur'an because we never read the Qur'an in Bangla. That day, he preached on faith and he read Matthew 17:20 which says, "I tell you the truth, if you have faith as small as a mustard seed, you can say to this mountain, 'Move from here to there' and it will move.  Nothing will be impossible for you."  I was impressed the Bible made such a strong claim about faith.  Nothing like that is written in the Qur'an.  Hearing these words my heart was full of strange emotions and I was crying so much.  I had hope and strength.  Both of us felt that way but we didn't know it because, in our misery and depression, we didn't share with each other.  We were so miserable that David wanted to commit suicide several times.  As for me, I tried suicide countless times by taking sleeping pills.  I was so angry I forgot about Allah and I was looking for something to believe which I get from this Bible verse. Then I sat on Namaz (Prayer) for the last time and said to Allah that I am going to pray to you one last time.  If you do not make any improvement in our situation, I will never pray to you anymore and will abandon my identity as a Muslim.  But at the time of prostration, I absent-mindedly used the name of Jesus instead of Mohammad.  I immediately experienced mental peace for the first time in one year.  I was seized with a desire to know Jesus, since by his name alone I received so much peace. I decided to read the Bible for more knowledge, and I shared my decision with David. 
Dalwar (David):
It took 9 months to destroy my business. I saw in James (my friend for 15 years) that a love for others had been planted from his youth and from long-time church attendance. He did good for others. But he always tried to preach about Jesus. I know there is no trouble if you preach to a Hindu, but when you go to a Muslim you will be harassed. I was very angry when James preached to me. I was so angry that in my heart I wanted to kill him. I was a tough guy. Whenever I couldn't tolerate his preaching I would say, "I am very busy, I have to go." But while we were staying at their house I couldn't avoid his preaching. I was very angry, but I was helpless. I had to listen. After attending their church, when I saw my wife starting to believe in the Bible, I became very angry also with her.There was so much turmoil between us because I didn't want to change my religion.I thought, "I will leave this house immediately," but I couldn't leave my wife. So, I made a decision that I will study the Qur'an in Bangla to prove its truthfulness to James and my wife. Now, I never studied Qur'an in Bangla before, so I didn't know it's meaning. But I found some heart breaking verses in the Qur'an such as beating your wife, announcing Jihad, killing non-Muslims to get to heaven and so forth. Besides the Qur'an, I was also studying Bible to find out negative things.
In comparison, I liked the words from Jesus such as if you are slapped in one cheek give your other cheek, helping others, and loving others. These things are impossible for humans.
So, now I had a huge problem: the words of Jesus seemed very pleasant to me, but some words from the Qur'an seemed very unpleasant. The Bible allows equal rights for men and women about going to heaven. But the Qur'an doesn't give equal rights between men and women in heaven. Also, in this world the Qur'an gives men the right to be married four times but women cannot. While the Bible gives the assurance of salvation, Muhammad gave no assurance. Now, I started to compare between Jesus and Mohammad as persons. In comparison, I couldn't find any worldly things in Jesus' life, not even a single sin, but there are many worldly things in Mohammad's life such as his marital status.
At that time, I couldn't make any decision by myself so me and my wife started to discuss with each other about all our true feelings. When we were discussing about the words of the Bible we found peace and hope of life. We went into a room and shut the door in order to talk and come to a decision. We talked continuously there for 8 to 9 hours and reached a decision. Our decision was "Let's live by accepting Jesus as our Savior." We shared it with brother James. He told us to take more time. And we took one more month. Within this month we finished reading four Gospels. Then James sent us to India to study about Bible. We were India for six months. When we came back to Bangladesh we had nowhere to go. We could not go to James's house because my younger brother threatened them. We couldn't stay at Dhaka or flee to another place. Now, we set our mind to work for God and serve God with our full life.