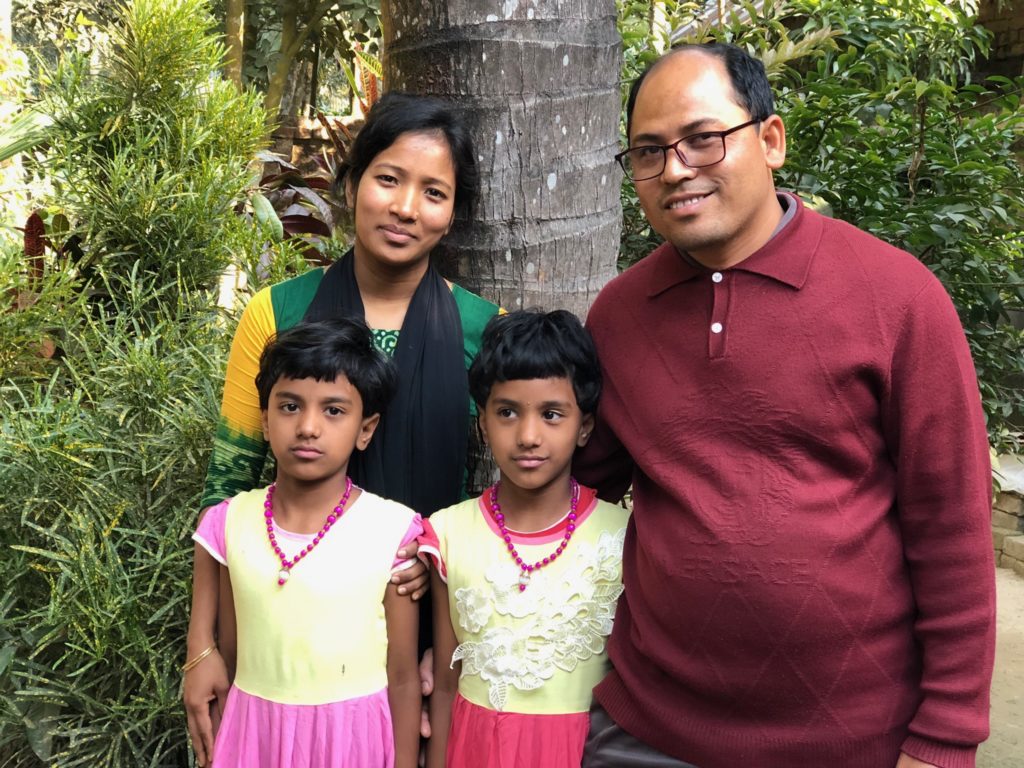 Mohesh's wife's name is Mukti Roy. God gave them twin daughters who are now 7 years old. Mary is the older, Noami younger. They suffer from a speech impediment and Mary struggles more. Mukti's family couldn't afford school fees for the 11th grade. A pastor said there is a free school in Dhaka you can attend. It turned out that it was a Christian school that only taught the Bible. There were others from her community and from her family who attended. Soon she found out it was not a normal or traditional school with the regular academic subjects and she hesitated about continuing. A good number of her community members dropped out, realizing that it was a "conversion school." They returned home and let it be known what that school was really about. Meanwhile Mukti was getting interested in the Bible subjects, memorizing verses and prayers. Although she was a little uneasy about the situation, her relative (a girl just a little older, who had already accepted Jesus) at the school assured her that she would like it more and more. When she came home after six months for the holidays, the family questioned her about the school. She concealed the nature of the school and the fact that she had accepted Jesus, and she returned to the school. By the time she came home for the second holiday, after one year, the family was clearly on to the situation and determined that they would get her married to a Hindu man to fix it. Getting wind of their plans, Mukti decided that she would never marry a Hindu because it would mean leaving Jesus and she would never do that. At the same time, she noticed Mohesh, also a convert from Hinduism, and liked him. When she arrived home, her older sister's husband locked her up in his house when she said she would not marry a Hindu man. There was no way for her to contact Mohesh. Fortunately, her other sister's husband took pity on her and freed her. She fled her family and married Mohesh.
Mohesh was born in a Hindu family. His mother died when he was 5 and his father married another woman. He has a younger brother and four step-siblings. His father's sister's husband was the pastor of a Lutheran church. He made a point of telling young Mohesh about Christ, and when he visited his uncle they took him to church (against his will) and Mohesh did not like that. When he entered his teenage years he began to think about what the two religions offered and saw that Hinduism gave no promise of eternal life like Christianity and it was just a bunch of rules. By the time he graduated from 10th grade (2000) he had decided to become a Christian and take baptism.
Immediately after his baptism, the Hindu village put pressure on his father, "Mohesh cannot live in the village, because he converted to Christianity." And so his whole family rebuffed him and ostracized him. He couldn't eat with them or sleep in their houses. If he came to his home village, he could be killed. His own family members actually loved him, but the committee of elders threatened to do terrible things to the family if they allowed Mohesh to return. His only contact with his family was by phone for about 15 years. Now, 15 years later, he can make very brief visits to his family in Shetabgonj a few times a year. His father listens to him share about Jesus Christ.
After his baptism in 2002 at 18 years of age, he wanted to learn more about Jesus and the Bible. His uncle suggested that he enroll in a one-year Bible training provided by the Lutheran mission. After that course, he got a job with Christian Life Bangladesh (Campus Crusade for Christ), where he served one year.
Then he served with some Korean Presbyterians for 8 years, first as an evangelist, then as a pastor in Dhaka. He left because he didn't like their system (common to many missions) which required making a certain number of converts in a certain amount of time. It leads to making false reports. He became a pastor for the Church of God mission in Lalmonirhat at an old established church with about 100 members (pretty large for Bangladesh).
He is a friend of Rubel Talukder (Bashkhali) who managed Dishari Camp when we held our first Leadership Camp there in 2013. Matthew saw Rubel at a conference in Singapore. He started using Rubel to help get our work in Chittagong started. Matthew needed to replace Joydeb who was left Dinajpur earlier in 2018. Matthew said, "Help me find someone."
Meanwhile, Mohesh was unsettled in his work in the far north of the country. The church committee was not happy that Mohesh preached whatever he saw in the Bible as the "whole counsel of God." He felt they wanted to limit it to "tickle itching ears." Somehow his frustration and the opportunity at BMW in Dinajpur met in a conversation with Rubel. He called Matthew up right away. Then he took a whole day bus trip in August to get to Dhaka for the interview. Matthew was meeting with Satish, Premanondo, Sanjoy and Polash. He told them it was their responsibility to interview Mohesh and recommend whether to hire him or not. They were very nervous, but did conduct the interview and recommend his hire. (This is just one more way Matthew is discipling those under him.) He started in September and moved his family to Birganj, in the northern part of Dinajpur. He has recovered some lapsed groups and formed 7 new groups in his first two months. He has visited many areas and made many contacts who reported it to Matthew. (Due to the efficiency of the "bamboo telegraph," now enhanced by mobile phones, there are no secrets in Bangladesh.)